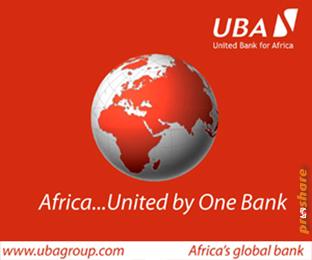 The Banker Magazine, a publication of Financial Times, has named United Bank for Africa Plc. (UBA), the Bank of the Year, Africa. UBA carted home the regional award for the continent at the Banker Awards ceremony in London, joining the ranks of other regional winners like Scotiabank-Global Americas, Nordea-Western Europe, Raiffeisen Bank International -Central and Eastern Europe, DBS-Asia\Pacific and Qatar National Bank-Middle East.
The "Bank of the Year" is selected based on the overall performance of the financial institution and the opinion of leading financial analysts from the world's financial markets. Winners were recognized and presented with awards in the presence of over 450 leading bankers across the globe.
In a show of dominance, UBA also won the country awards for Senegal and Cameroon, bringing to a total of three, the number of awards received that night by UBA.
The awards further attests to UBA's growing recognition as the leading pan-African financial services institution and as Africa's global bank.
The awards were received by the Bank's Deputy Managing Director, Mr. Kennedy Uzoka; MD, UBA Cameroon, Mr. Georges Wega; MD UBA Capital Europe, Mr. Ebele Ogbue and Head UBA Representative Office Paris, DeMontalivet Edouard.
Explaining the rationale for the awards, the Banker said UBA was chosen on account of the Bank's successful turnaround to profitability following the write-offs and clean-up of its balance sheet in 2011. The Banker also stated that other reasons for the selection of UBA were the notable consolidation of UBA's business across Africa as well as its innovative cross border payment/remittance products and platforms, which have made trade and financial transactions easier and more convenient in the continent.
Commenting on the awards, Group Managing Director/CEO, UBA Plc., Mr. Phillips Oduoza said they validate UBA Group's leadership position in the continent and lends credence to its expansion across Africa and promotion of industry wide excellence in the global banking community.
"Winning the three highly coveted awards is a great accomplishment and it also reinforces UBA Plc.'s collective steadfastness and drive to becoming the bank of choice in Africa, in line with the Bank's positioning as Africa's global bank. We dedicate it to all our stakeholders across the continent and are further encouraged to work harder" he enthused. 
The UBA Group is an acknowledged industry leader in Commercial and Retail Banking across Africa with operations in 19 African countries serving over 7 million customer accounts through multiple channels and remote locations.
info@africabusinesscommunities.com
Follow us on Twitter!
www.twitter.com/africabizz
www.twitter.com/andreaayemoba